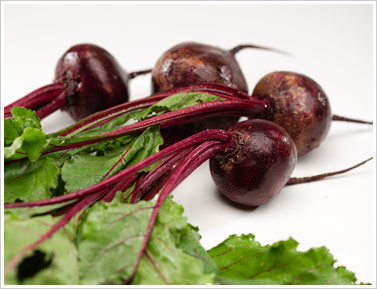 I had a small (really small), yet fun, brush with fame today. One of the cool features of my new Jetta is a free 3-month subscription to satellite radio. I am enjoying many new music stations, especially as I drive to southern and western MN where the stations are few and far between - and let me just say not necessarily my political peference.
I am also, perhaps surprisingly, enjoying the Martha Stewart station. It has good environmental, home and especially cooking guests and tips. So this morning as I'm pulling into the Midway Target parking lot, the guest, Matt Jennings, executive chef from the Farmstead Restaurant in Providence, RI was speaking about farmer's market finds and recipes. The host asked people to call in with great ideas or recipes using local farmer's market produce.
So, in an extremely un-Maggie like moment, I called. I have a wonderful recipe for a roasted beet and goat cheese salad that I make all the time. I figured I would get a busy signal or be on hold forever, but in about 30 seconds I was on the air! I shared my tip for roasting beets (see below) and using them in this terrific salad. Matt also gave me a wonderful way to use the beet greens, which I've never done, so all in all a nifty (as my father would say) experience.
This "food" aura continues to swirl around me and I am pretty sure that in my second 50 years, I will need to incorporate it into my life in a different way. I have no idea what that is, and I certainly have no plans to quit my day job - but the pull is getting stronger - stay tuned.
OK - now the fabulous roasted beet salad
Take a bunch or two of beets - ideally red & golden, preferably purchased at your local farmer's market. Cut the greens off and wash the beets. Wrap them whole, separating the colors, in aluminum foil packets and roast in an oven @ 400 degrees for about 45 minutes. Let them cool, and the peel them; the skin will come right off. (Remember the color is very bright, so you may want to use gloves).
Cut or slice the beets to the size you like. Add them to your favorite greens with feta or other sharp, creamy goat cheese or blue cheese, if you'd rather. Add a chopped handful of toasted pecans or walnuts and top with your favorite vinaigrette - I like 2/3 olive oil to 1/3 red wine vinegar or champagne vinegar, 1 tsp dijon mustard, a clove of garlic (smashed, whole) to sit in for a couple of hours, salt & pepper.
It's super easy, looks great, and everyone loves it - even the beet haters!
Enjoy